We chant in Sanskrit because it's one of the most ancient languages in the World used to embrace Wholeness and Completeness.
Sanskrit is a language originating in North India over 5,000 years ago. The ancient Indian scriptures (Vedas) were written in Sanskrit, as well as many teachings in Yoga, Meditation, Ayurveda and Astrology.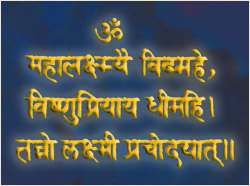 Sanskrit translates as "Sam" or "San", meaning 'well or perfected', and "Skrit" meaning 'written', so it is a perfected language on the level of its vibration, and is known to be the root of most languages. It is also called "Dev Naagri" or "language of the Gods" since the ancient Rishi's (Seers) literally "breathed out" the language from deep meditative states.
Each sound or syllable is a mantra or prayer from God leading us back to God. The language is made up of 52 primordial sounds, so basically the Source and purity of the Universe is singing these sounds with every moment of its existence.
When we chant in Sanskrit, or even listen to these transcendental sound waves, we immediately get tuned into an energetic source of bliss. We tap into a field that is the substratum of our existence which is tremendously healing, since these mantras have been repeated billions upon billions of times in India and elsewhere for the very purpose and intention of healing and Wholeness.
Now, at this time of Kali Yuga (the Iron Age, or age of chaos) we are collectively seeking ways to re-connect with the Source of our Existence.
Sound therapy is a powerful way to bring calmness to the mind and regulate our entire physiological system. Sanskrit resonates pure sound waves penetrating deep within the heart and mind, creating a stillness and tranquility that is more than ever, greatly needed.