PLEASE PERUSE OUR SITE FOR MUSIC PURCHASE AND PAST SHOWS!
FOR UPDATED OFFERINGS, AND ALL THINGS "NEW" AND "EXCITING", PLEASE VISIT OUR SOCIAL MEDIA PAGES:
IG: meenakshiswaha, ronreidyoga, swahayoga , downwarddogyoga
FB: Marla Meenakshi Joy, Ron Reid, Downward Dog Yoga Centre
Dear Meenakshi and Ron,

I attended your kirtan for the first time on Saturday night. I brought with me a few friends and all of us just LOVED your music. It was inspirational and powerful and we were left full of peace and joy.

Thank you for sharing your gifts with the rest of us. I feel so blessed to have you both in my life.

I would like to attend any future kirtans and hope to bring more of my friends!

K.S.from Toronto

Join our Facebook page!
U P C O M I N G S H O W S 2 0 1 4
SWAHA CD RELEASE!
June 14, 2014 @ 7:30pm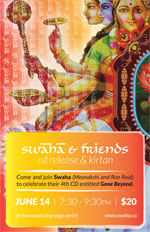 Swaha (Ron & Marla) are excited to release their 4th CD! Come groove with them as they share their newest songs with their stellar band! Featuring: Chris Gartner, Kevan Mackenzie, Stew Crookes, Carlos Lopes, and Lana Sugarman..
This CD release is a "Pre-Bhakti Fest" event, as Swaha will be part of the Fest in Wisconsin the following weekend.

Click on thumbnail to download poster
DATE: Saturday June 14, 2014 @ 7:30pm
WHERE: Downward Dog Yoga Centre
www.downwarddog.com
SWAHA AT BHAKTIFEST!
June 20-22, 2014
For their fourth return to this festival, Ron and Meenakshi will be teaching 3 classes as well as doing a kirtan. Bhakti Fest Midwest is not to be missed!
Ron and Marla in Europe and Asia this fall!
We are so excited to be visiting 5 different countries.
Hope to see you over there!
KIRTAN AT EXHALE WITH SWAHA (Venice, CA)
Friday August 29th, 2014
Exhale Center for Sacred Movement
www.losangeles.exhalespa.com
Join Swaha and friends for an amazing night of kirtan, closing the circle on Annie Carpenters amazing one month teacher training! Please see website for more details…
The Art of Vinyasa teacher training, Mysore classes and Swaha Kirtan (Stockholm, Sweden)
October 15-22, 2014
Fore more details, please visit:
www.atmajoyti.se
www.atmajoyti.se/en/courses/
Ashtanga Yoga Refined (Helsinki, Finland)
Weekend workshop and Swaha kirtan
October 24-26, 2014
Fore more details, please contact Lana:
lana@lanaprana.fi
Build an inspired and sustainable Ashtanga Yoga practice (Paris, France)
Weekend workshop and Kirtan
October 31-November 2, 2014
Fore more details, please contact Lana:
www.ashtangayogaparis.fr