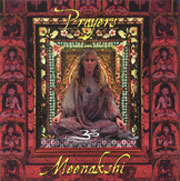 Nine Tracks: 59min Playing Time
"In general her voice took me to a beautiful place magic... within her sounds her voice and chants all are a part of the divine the eternal fire within the soul ~ Blessed be"
-Brigantia Sullivan

To read more about 'Prayers' click here...
PRAYERS by Meenakshi
TRACK SAMPLES:



Click on the track names to listen...



1. Madhur Aashtakam
2. Yamuna Teera Bihaaree
3. Shambho Shankar
4. Prayer to Ganaysh
5. Govinda Naaraayana

HOW TO BUY

OPTION 1:
BUY FROM SWAHA AN MP3 DOWNLOAD VERSION:
THIS IS NOT A CD, but a digital copy of the album
Add to Cart >>
View Cart >>
PLEASE NOTE: Downloads are non-refundable
OPTION 2:
ORDER CDs ONLINE AT CDBABY.COM:
BUY THE CD, by visiting the CD BABY link below
http://cdbaby.com/meenakshi
OPTION 3:
TO RECEIVE BULK DISCOUNTS:
order at CD Baby or contact Meenakshi for wholesale prices at info@swaha.ca
MORE OPTIONS::
FIND US ON PAY PLAY (an MP3 download store):
www.payplay.fm/meenakshi
Prayers is being distributed by Shanti Om music:
www.shantiommusic.com
1-866-717-7003 or 1-905-727-1333
Also available at White Swan Music:
www.WhiteSwanMusic.com
Ask for Prayers at any HMV or Chapters/Indigo store or order at www.indiepool.com
Salutations and Prayers are availabe for purchase in the UK and Europe at:
YOGA MATTERS
www.yogamatters.co.uk
contact: Paul Walker
customerservice@yogamatters.com
Swaha's "ganesha-ji'" track appears on White Swans compilation in their Yoga Masters series Yoga Motion Visit www.whiteswanrecords.com to order.