Media Coverage:
Article 1
Yoga Fans...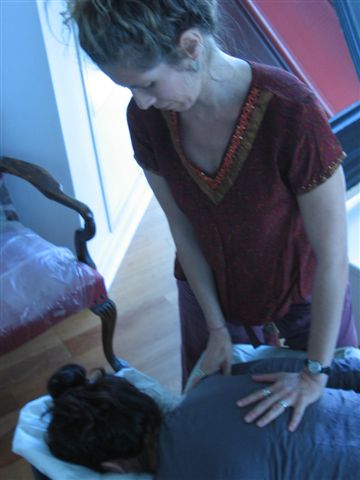 "Shiatsu", translated as "finger pressure", is an ancient form of Japanese physical therapy which works with the body's energy pathways (meridians) to promote balance in the nervous system.

The treatment primarily involves thumb, palm, or elbow pressure to acupuncture points which helps to reduce muscle tension, improve organ function and works toward restoring the body's inherent healing abilities.

Marla Meenakshi Joy is a Shiatsu Therapist and has been in practice since 1993, and is a graduate of the 2200 hour accredited course at Kikkawa College. She has worked in clinics, yoga studio's and at home, incorporating her knowledge of the body through yoga, healing natural therapies, and hands-on application. She works on a shiatsu mat, or massage table, and most sessions are 90 minutes in length.
She is available by appointment only, in Toronto, and also on the road!


"Hello Marla: I just wanted to let you know that I am still feeling the effects of you amazing (Shiatsu)work on Friday! Have been feeling really, really good: a lot more spacious on many levels, calmer and best of all, have been sleeping like a log! Even managed to listen to my body this weekend and did absolutely no training! In my life that is the equivalent of giving yourself permission for a really long Child's Pose! Guilt free! A heartfelt thank you! Stay well, see you soon"
Angela